Female-dominated production company launches to tackle Hollywood gender gap
We Do It Together aims to improve opportunities for women within the film industry following criticism of studios on the issue of gender discrimination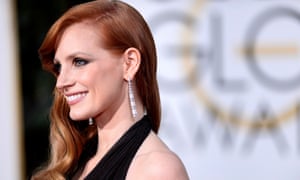 Fighting to close the gender gap … Jessica Chastain. Photograph: Paul Buck/EPA
Jessica Chastain, Juliette Binoche and Catherine Hardwicke have joined the advisory board of a newly launched non-profit production company aimed at improving opportunities for women in Hollywood.
We Do It Together hopes to close the gender gap by focusing on film and television projects that empower women. Other board members include rapper-turned-actor Queen Latifah, Slumdog Millionaire actor Freida Pinto, the British director of Belle, Amma Asante, Crouching Tiger, Hidden Dragon superstar Zhang Ziyi and Katia Lund, the Brazilian co-director of City of God.
Chastain has spoken regularly of her disgust at gender pay disparity and the manner in which Hollywood sexualises women in action movies. In December she wrote about the positive experience of working on her forthcoming film, The Zookeeper's Wife, which boasted a largely female crew.
Hardwicke was, at one point, the director of the highest-grossing film made by a female film-maker, 2008's Twilight. She has spoken about her first-hand experience of Hollywood sexism, after being told that producers of the Oscar-winning boxing drama The Fighter were only considering men for the director's seat.
"We hope in the future we won't have a need for dedicated niche financing for films by and about women," founder and board member of We Do It Together, Chiara Tilesi, told the Hollywood Reporter. "All of us involved in We Do It Together recognise the vital role of the media and entertainment in both shaping and challenging societal norms. Film has always possessed the power to defy convention and change hearts and minds, and this power and potential must be harnessed to challenge the current archaic norms related to women within the entertainment industry. We feel that the way to make this a reality is to give women from around the world a concrete way to express themselves and an ongoing structure that will ensure that these stories will be financed and distributed."
We Do It Together hopes to announce its first feature project at the Cannes film festival in May. The organisation's founding follows a year of uncomfortable headlines for studios on the issue of gender discrimination in Hollywood. Patricia Arquette highlighted pay inequality last February during her best supporting actress acceptance speech at the Oscars, while stars such as Meryl Streep, Keira Knightley, Carey Mulligan, Romola Garai, Geena Davies and Amanda Seyfried have all raised the issue of Hollywood sexism. In October it was revealed that US equal opportunities officials are to interview dozens of female film-makers as part of a historic probe into gender discrimination in Hollywood.